St Kevin's is committed to the pastoral care of all students and parents. Our school has adopted the KidsMatter framework which supports wellbeing within the school community.
KidsMatter is a mental health and wellbeing framework for primary schools which uses proven methods, tools and support to nurture balanced, healthy kids.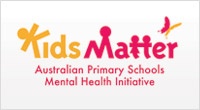 KidsMatter is a whole-school approach to improving children's mental health and wellbeing. It is founded on respectful relationships and a sense of belonging and inclusion.
KidsMatter promotes:
social and emotional learning
working authentically with parents, carers and families
support for students who may be experiencing mental health difficulties
KidsMatter postcard framework and journey